Greenline 40 Hybrid: A Motorboat Designed for Sailors
Greenline 40 Hybrid: It's a Lifestyle Choice
Erik is the kind of guy who will make the effort to speak to everybody in the bar, and then declare that he is not sociable. His partner, Catherine, is earnest and has a warmth which is easy to pick up on. They never intended to live on a boat, let alone a motorboat. But in 2019, Erik, who was running a successful wine bar in Copenhagen, was forced to put his business on hold for nine months due to the Covid-19 pandemic. The hospitality industry's unpredictable nature meant he was suffering from chronic stress. To release financial pressure from themselves, they decided to focus on their holiday property portfolio, expanding from two properties to three, all located in Italy. They have one property, Villa Crotto in Lake Como, and two in Piemonte, Villa Delloso and Casa nel Bosco. They relocated to Italy to live in their rental properties when they were left unoccupied by guests. However, they faced an issue, their rental properties are full during the summer season, leaving them without a home. They needed to live self-sufficiently and maintain their outgoings, and there was a very straightforward solution: to live on a boat during summer. Not only was this a smart move financially, but it also allowed them to travel, something they had wanted to do for years. 
Because life is better on a Greenline yacht. Image credit: Erik Bjorn.
Neither Erik nor Catherine had ever had a GAP year, and they had a burning desire to travel and explore. After a lifetime of hard graft, never taking a break, the prospect of travelling around Europe's waterways and immersing themselves in diverse cultures stirred them with excitement. They decided to take the plunge and embark on a new phase of their lives together.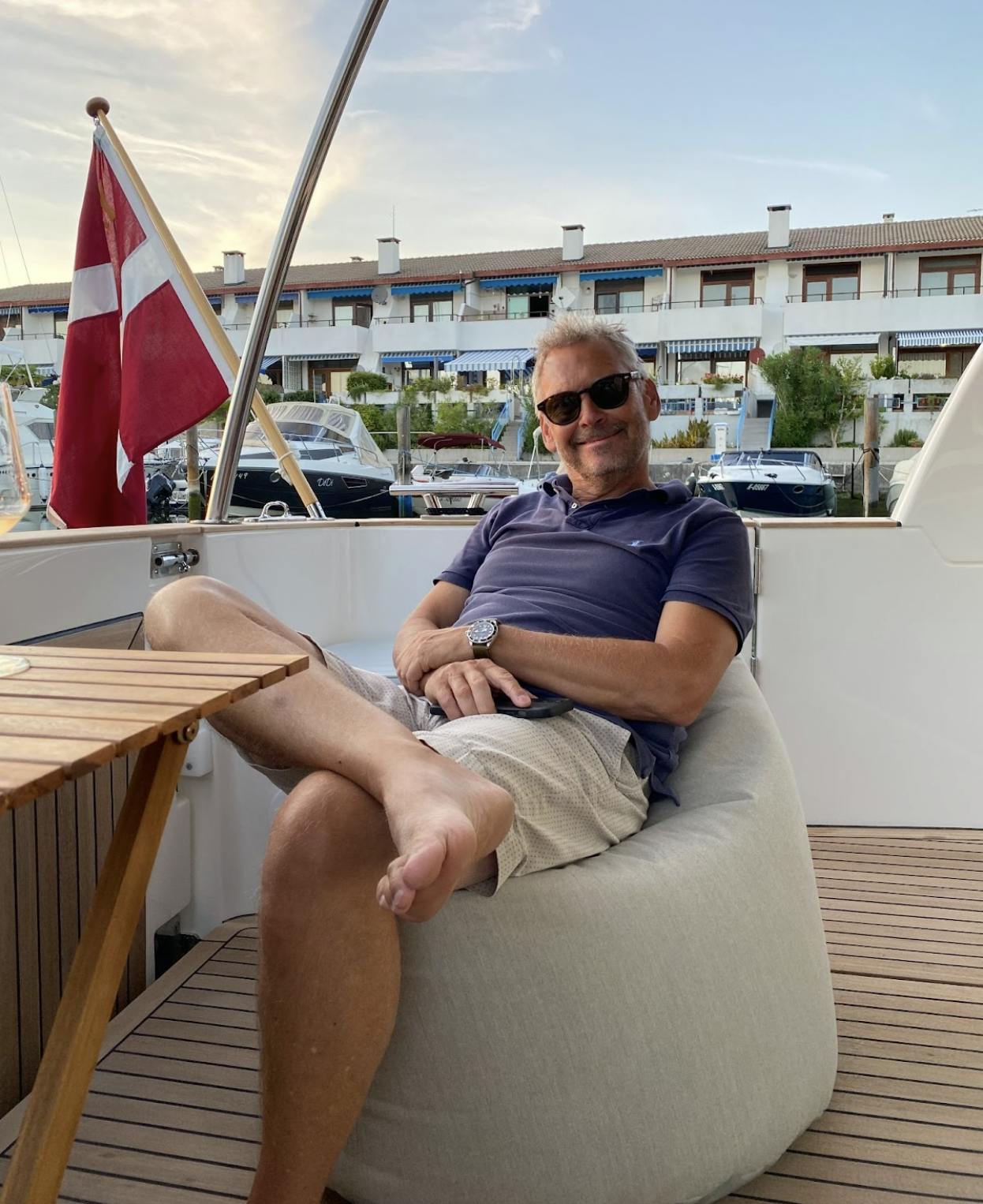 Erik on the deck of the Greenline 40 ready for his aperitivo. Image credit: Catherine Axel.
The Search For "The One"
And so, the search began for the perfect boat to live on during the summer. Having grown up sailing, Erik and Catherine associated the motorboat culture with fumes, noise, bikinis and booze. They never thought it was possible to find a motorboat that combines all the qualities experienced sailors seek, such as clean air and a peaceful environment enhancing the boating experience and connecting them with nature. But the Greenline hybrid runs silently without exhaust or wake in electric mode. 
They needed a boat that functioned as a floating villa with low clearance height to enable them to access canals and locks across Europe. They also needed a boat that they could enjoy with their grown up children. And despite their relatively straightforward criteria for finding a boat, they found a surprisingly small pool of yachts available to choose from.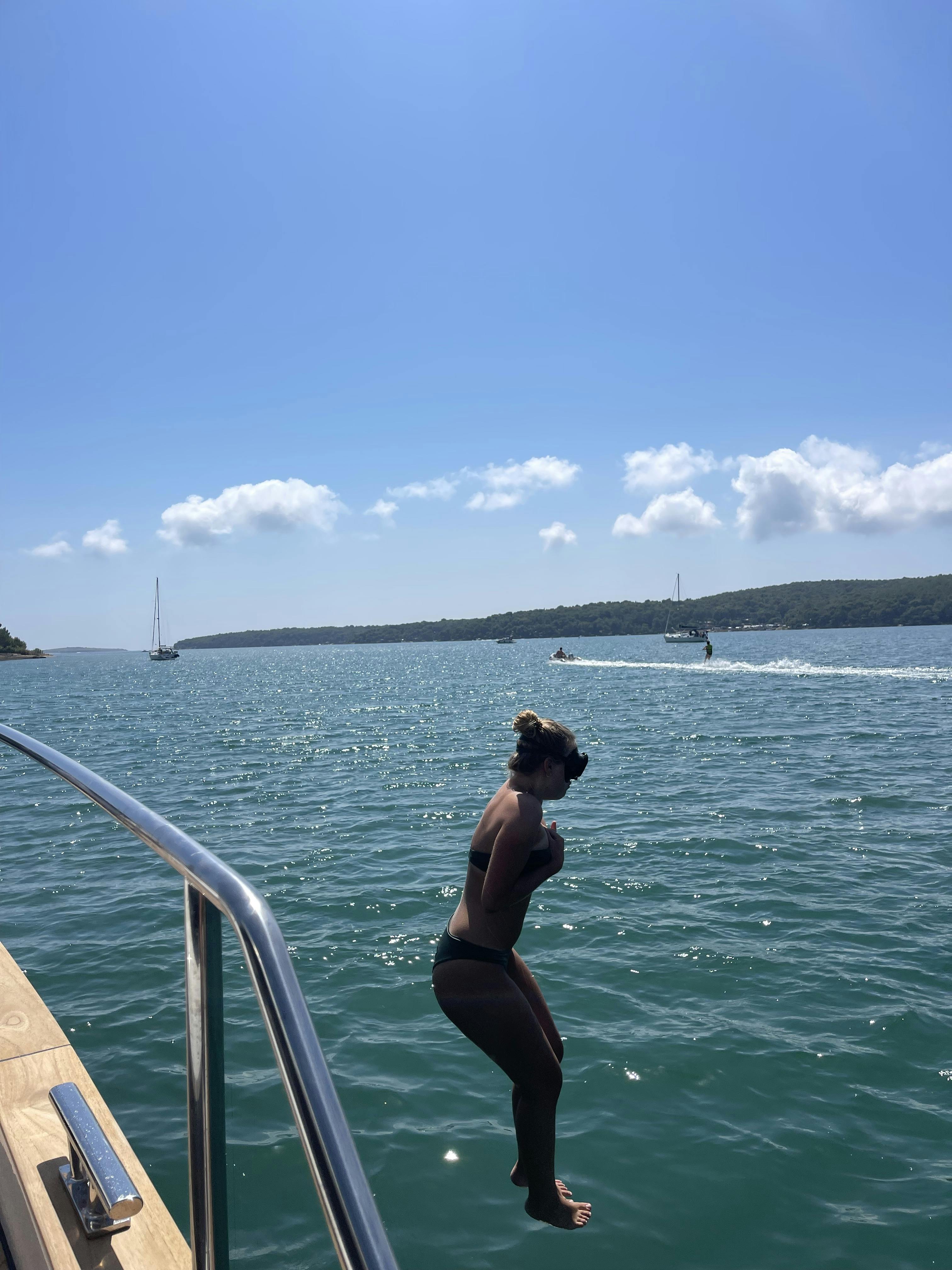 Their daughter Laura is enjoying her new lifestyle on the water. Image credit: Erik Bjorn.
For Catherine, purchasing an eco-friendly boat was very important, "I knew we couldn't afford to be too idealistic because an entirely sustainable boat which is practical for long-distance cruising doesn't exist. We looked into the Greenline 40 hybrid, which combines three power sources: solar power, electric batteries and diesel. We felt it was practical to use for extended periods due to the range and long battery life. It is a very good compromise,". While it still uses diesel, it is drastically less compared with a combustion engine, which guzzles fuel. The diesel engine propels the boat and drives the generator, which recharges the battery pack, on a continuous loop. 
They needed a boat which they could work on, with connectivity to allow them to maintain "business as normal" from a yacht. Next summer, they plan to install a large antenna on top of the vessel 100 times more powerful than an iPhone to increase coverage onboard. 
"As sailors, the build quality was critical to us. There are so many poor models available on the motorboat market, and you have to select a boat carefully. Greenline only makes 60-80 models a year. The result is that much care and attention goes into the finer details of every boat, unlike larger boat builders that churn out hundreds of models." When you look around the yacht, the high level of craftsmanship is clear, especially in the cabinetry, which is made using fine-grain wood. Erik and Catherine opted for a walnut interior, evoking a feeling of warmth on board.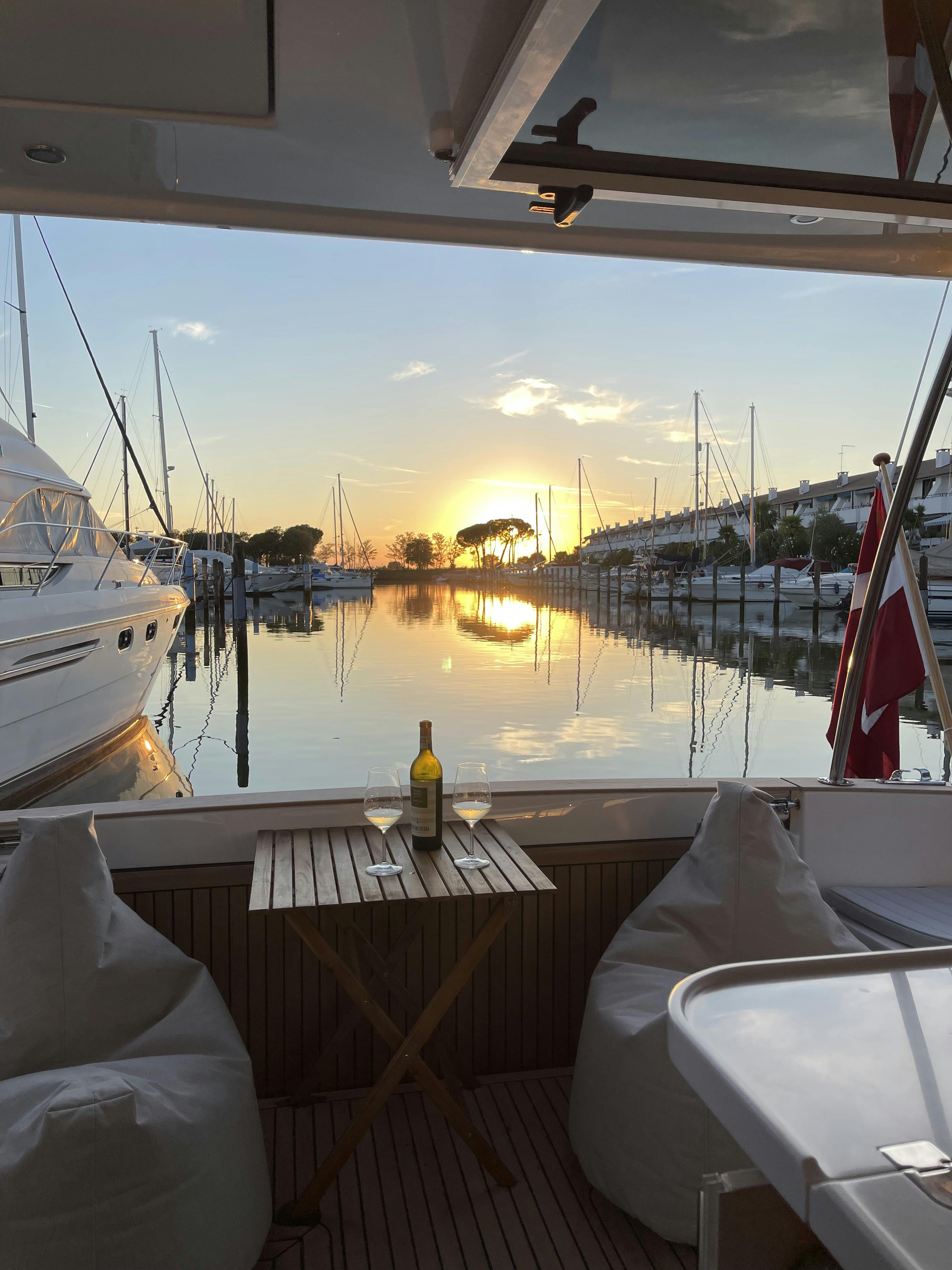 A table for two with a water view please. Image credit: Erik Bjorn.
Picking Up The MY Villa for the First Time
In August, Catherine and Erik picked up their first Greenline boat in the Greenline shipyard in Slovenia. Although Erik had previously owned an antique 1977 RIVA Olympic speedboat, he had never been behind the wheel of a large motor yacht before; Erik comments, "We were handed the keys on the sixth of August at eight o'clock in the morning. The boat arrived on a truck. They put it in the water and said, "Here's your Greenline,". Having never handled a large motor yacht before, we were a little bit stressed about operating it somewhere new! But before we knew it, we were island hopping around Croatia, having fun exploring its idyllic beaches and coves,"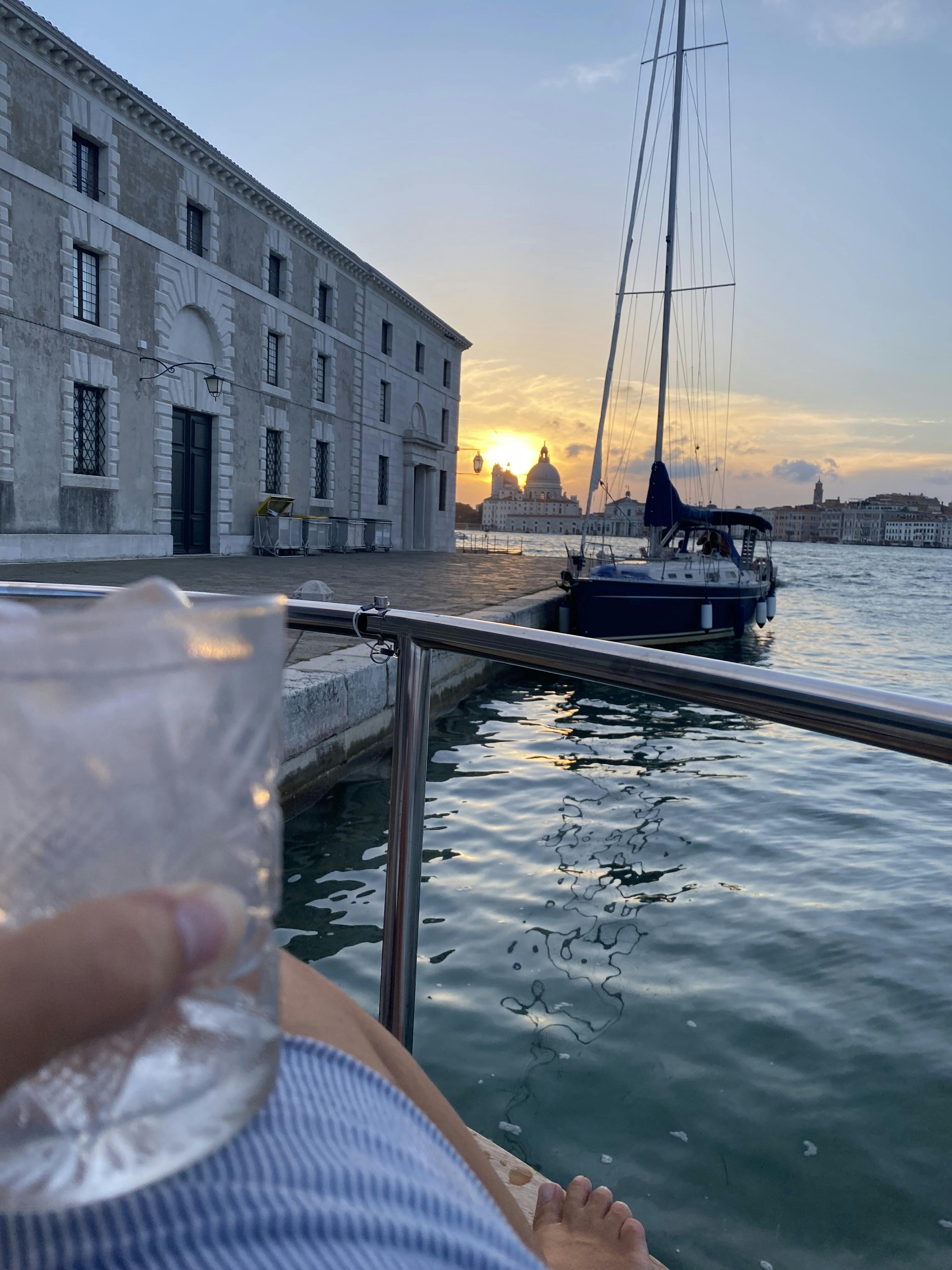 Enjoying the historic scenery in Venice, Italy. Image credit: Catherine Axel.
"Our Greenline 40 Is A Big Talking Point,"
The Greenline is a great conversation starter; they have met people from all walks of life. Greenline yachts stand out  berthed at the marina. Erik jokes, "The only drawback to owning a Greenline is that so many people want to talk to us about it!" 
Greenline 40 Hybrid Propulsion: The Reality
Erik and Catherine opted for a larger battery pack - something that became apparently essential. It allows them to cruise further without recharging, typically allowing them four hours in the water before they start to run low. Although they paid a lot for the bigger battery up front, they are already reaping the rewards. "Something that a lot of people do not release is how using electric propulsion and a diesel engine working in tandem can benefit the engine's health," says Erik. The battery pack dramatically reduces the running costs of motor yachting because the fuel and maintenance required are much less than a combustion engine. It is also better for the environment, significantly reducing the number of carbon emissions. 
But cruising electric isn't the only component of hybrid propulsion. Cruising under the sun is the third pillar of Greenline's hybrid circular power source model. Solar panels on the roof of the boat charge when the sun is out. "A life onboard without being consumed by refuelling or recharging is fantastic," Erik raves. 
"It's important not to bring your batteries lower than 20% full. If your batteries are low at 20%, if you ride with diesel engines for two hours, your batteries will charge back up to 100% power when you put the boat in diesel mode. They are super fast charging batteries," says Erik. 
Naming the Yacht 
Erik and Catherine named their Greenline MY Villa, which has a double meaning, "motor yacht villa" or "my villa". Soon they will be launching their own YouTube channel Living the Villas where viewers can follow their adventures across Europe. 
Living aboard a Greenline 40 in Croatia
A big question that Erik and Catherine were worried about when they embarked on their first long trip was how much living on a boat would align with the convenience of their old apartment. There's a difference between taking a vessel on an extended trip to living in one. After all, we take home comforts for granted, from soft carpeting, baths, etc., which are second nature to anybody who has lived in a house or apartment their entire life. Suddenly Erik and Catherine were going in the deep end, "For me, it is 90% like being in an apartment. There is a full-size refrigerator, a freezer, a TV and air conditioning." says Catherine. 
Life on the Water 
Erik assures me that their daily routine on the boat is also no different from living in an apartment. They work remotely during the day, and during the evenings, they dine al fresco on the deck surrounded by water and wildlife. "The extended cockpit is like our terrace. We have lounge furniture, and it's covered, so we are protected from the elements." The kitchen sits next to the cockpit so that whoever is cooking in the aft galley has contact with the terrace, and it feels like one big social area. It also means that food smells escape outside. 
On the bow is a large sundeck providing an additional spot for sunbathing, which is particularly useful when they have their children on board. Erik takes Catherine on 'tinder' dates on the RIB (he has dyslexia and uses 'tender' and' tinder' interchangeably). 
Boating Trips While Living Aboard 
Living on a boat allows you to live in complete freedom, and for Erik and Catherine, docking the boat in small, undiscovered towns is at the top of their agenda. Since receiving their Greenline in August, they have travelled to Venice, Grado (just North of Venice) and small cities in Croatia. They particularly enjoyed living aboard the boat in the little Italian town of Grado, just North of Venice, for a few days. They cruised to a small historic stone harbour in the centre and berthed the boat just one metre away from the pavement, where they soaked up the city's essence. They enjoyed it so much that they have returned since. 
"Since our Greenline is covered in huge glass panels, you can enjoy panoramic views. But you must know that your vessel is exposed too. Of course, we have curtains, but you live effectively in a fishbowl most of the time. The benefit is that the boat floods with natural light, and you never feel boxed in. You cannot be shy, and for some people exposed to living may take some adjusting to. Living in this immersive way means you become part of your environment, allowing you to get under the skin of the local culture.
In Anchor Mode: Harness the Power of the Sun
Catharine and Erik have enjoyed living in peace at anchor. By utilising a bank of solar panels, they can use all of the boat's appliances (1.8 KW of power), whether cruising or at rest, without having to fire up a generator or connect to shore power. When they turn the oven on or charge their phone, there is no noise, vibrations, or emissions. Aside from that, they don't disturb their neighbours. Erik is proud to declare it "Gentleman's boating,". 
Where to Next Captain?
Erik and Catherine look forward to discovering the canals and waterways in and around Europe in June next year, where they will live on board MY Villa for six months. Stay tuned to hear more about their adventures on the water.