Greenline 58 Fly: Refined, Bold and Flexible
Launching in autumn 2022, the all-new 58 Fly fits into the range to bridge the gap between the popular Greenline 48 Fly and flagship 68 OceanClass. As pioneers in hybrid propulsion, the new 58 Fly will be released with a next generation H-Drive system. The 58 Fly's exterior fluid lines and soft curves are seductive. The yacht has a fresh, sporty edge while taking cues from Greenline Yachts iconic heritage look.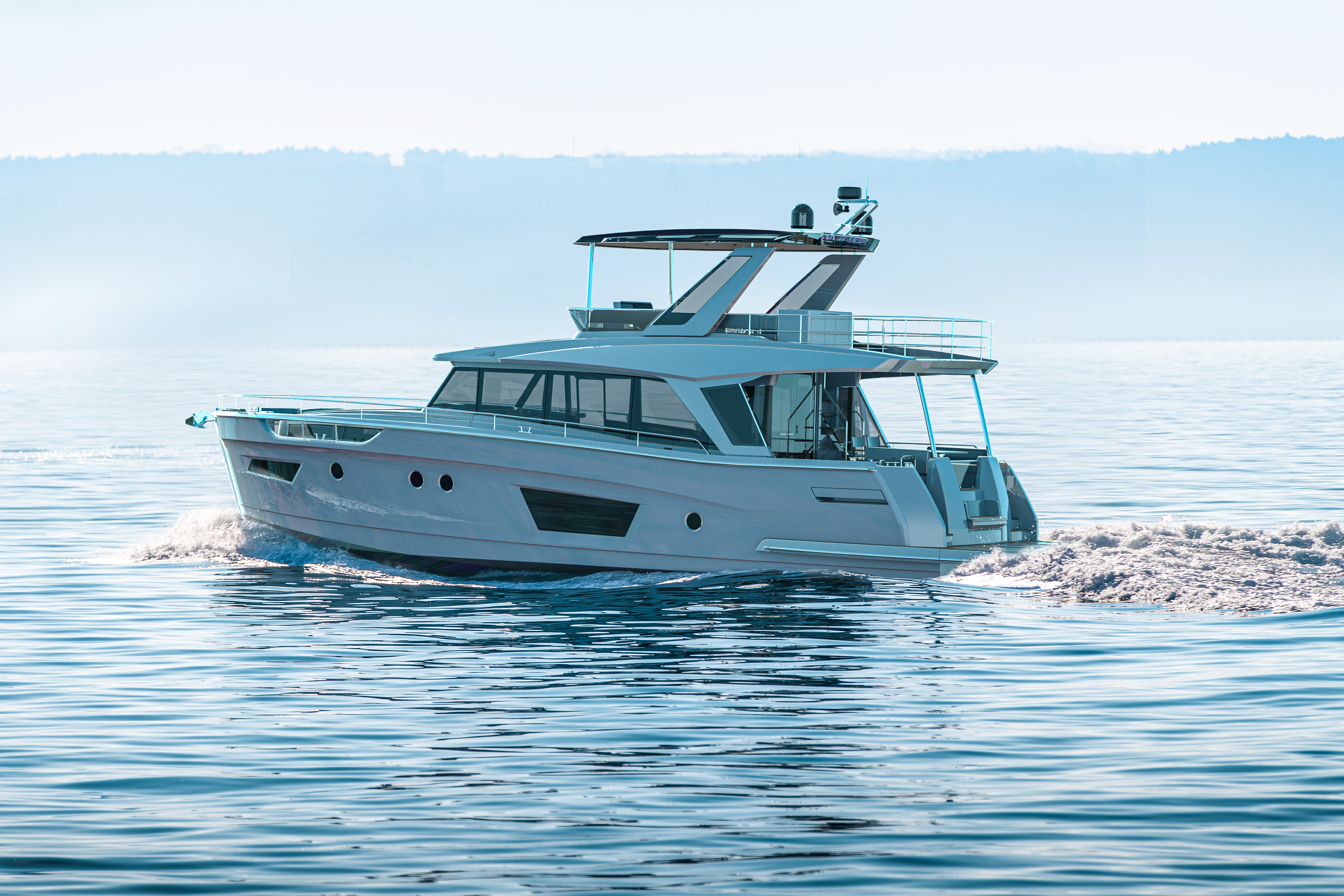 Greenline's Flagship Flybridge Cruiser 
Everybody who enjoys spending time at sea will appreciate a yacht which feels exceptionally comfortable, even when at sea for extended periods. The 58 Fly has even more space and features than previous Greenline models, combining all the qualities that experienced cruisers seek to find in a new yacht. The 58 Fly delivers an upgrade in comfort and confidence in all areas. Marco Casali, owner and designer at Too-Design, an architecture and yacht design studio based in Rome has been dreaming up the ultimate design since he became involved with Greenline Yachts over two years ago. "There is one unique commonality across all Greenline Yachts models- they are enjoyed by people with a deep passion for the sea. It is not a 'show off boat', recognised for speed or decadence. It is a boat for people who enjoy living and spending quality time with their family and friends." says Casali. 
A Lifestyle Game-Changer
The way that boat owners are using boats is changing. A shift towards remote working precipitated by the pandemic means that people choose to spend more time at sea on long voyages or go away for long weekends. The 58 Fly is offered in three unique configurations to suit modern boat owners with an adventurous spirit. The standard arrangement comprises three cabins, two bathrooms and walk-in wardrobes for the master and VIP suites. The 58 Fly is unique because there is an option to replace the twin guest cabin with a dedicated study allowing the owner to work from the boat. This fully fitted office space with built-in monitors, HDMI and USB points and a stylish yet functional office chair we expect to be utilized by remote workers seeking to spend more quality time with family or friends. The flexibility of adding an office will be a lifestyle-changer. The sofa can be turned into an additional bed if needed. 
The pandemic taught us that we could have a zoom call with the different people in different countries without flying. "The richest thing you can buy is time",- says Casali. "Many boat owners want to work alongside their family. A dedicated office space can also be used by children to carry out their studies, or paint or play at their desk." There is room for a single bed, offering flexibility to use it as a children's cabin.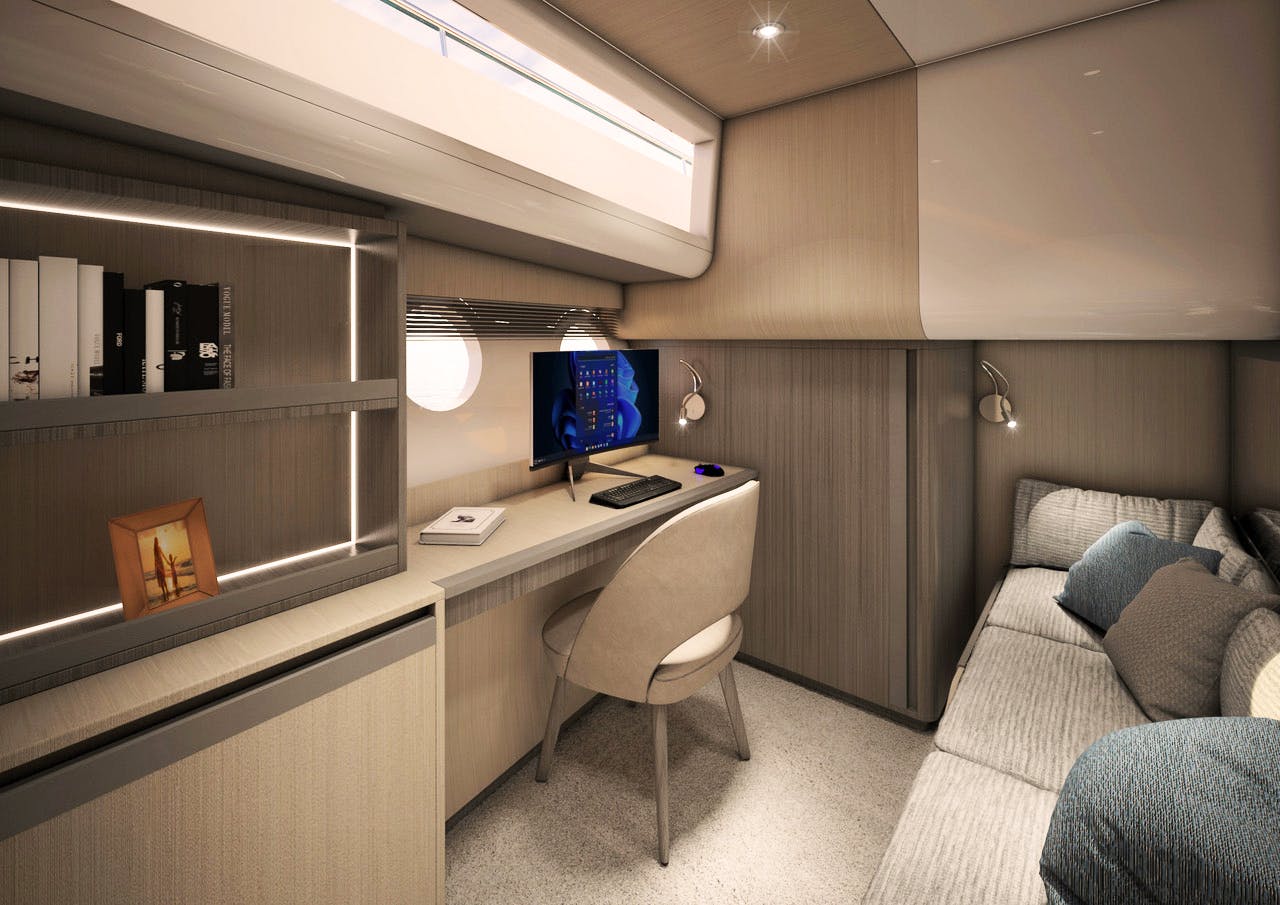 Linear Design
Greenline 58 is the first yacht for owners to enjoy a seamless transition between the cockpit to the helm station, all on one level. Eliminating steps is a small change, but the impact is enormous because it increases circulation between the two spaces. Stairs take up considerable space and break up a room. "Even if a space has the same square metre measurement, it's how you use the space which is important." says Casali, "Which is why we gave careful consideration to the layout". 
Waterside Living 
 "There are a few but important touchpoints that affect how you connect with the sea. We focused on these details and reimagined these spaces," says Casali. For example, there are three seats on the bow with a booth to provide additional private leisure space. 
Also, from the aft there is an extended hydraulic platform and a table for dining, everybody at the table can sit facing the sea. Equally, the table can be lowered, transforming it into a relaxing area where you can read the book or fall asleep. To mitigate any draft from the wind, there is a glass balustrade to provide protection from the elements. "We designed this spot to be a private space for when the boat is berthed at the marina. You can sit on the aft and enjoy leisure time on the beach club aft without passers by observing."says Casali.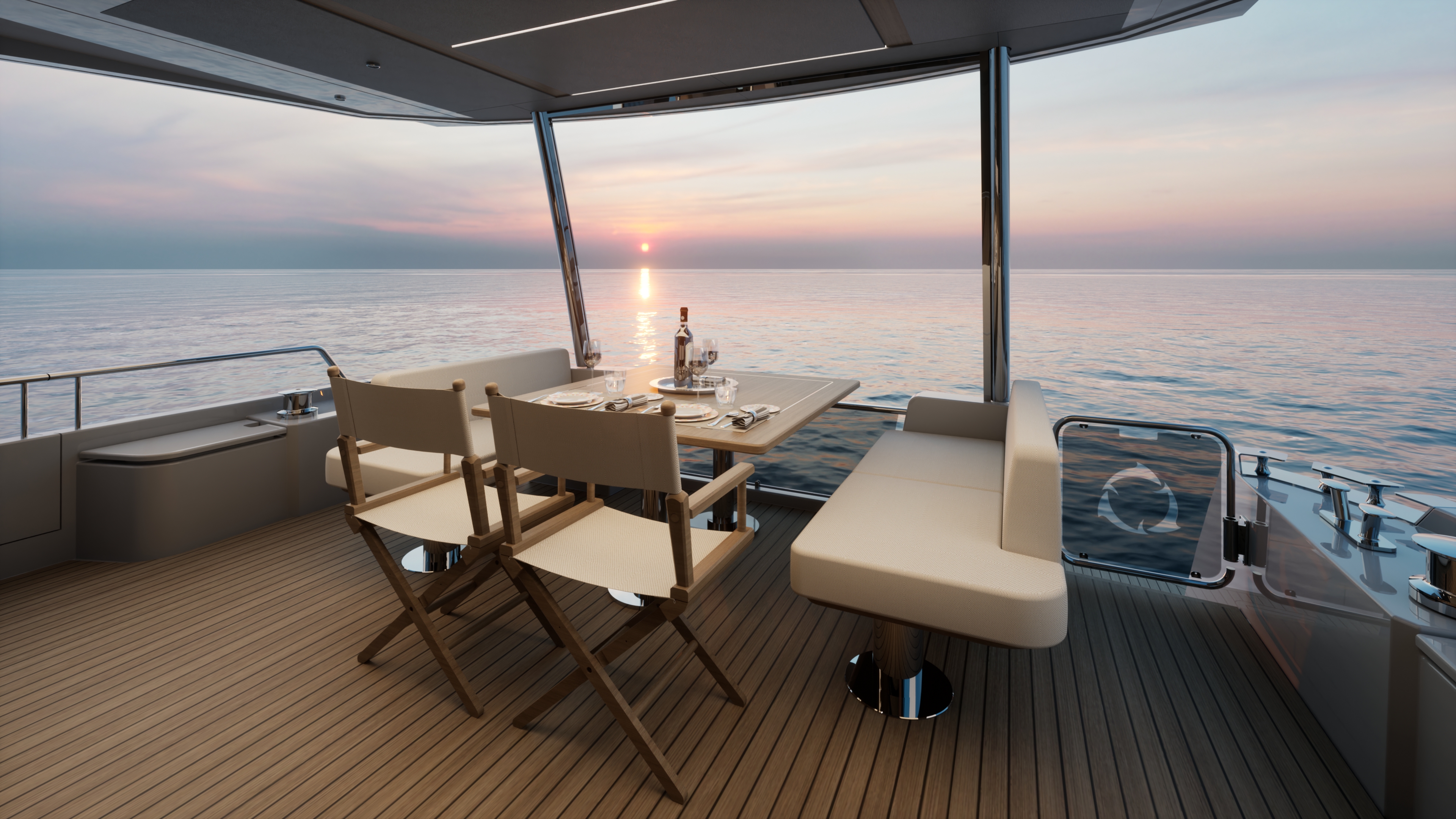 A Palatial Flybridge 
The tower-high flybridge boasts the best views on the boat. The flybridge is substantial in size, and comes with a carbon fibre T-top that offers excellent protection on the top deck. A well-equipped wet bar, spacious dinette and open space aft for free-standing furniture means that the top deck can be used for guests to relax and enjoy during the day or at night.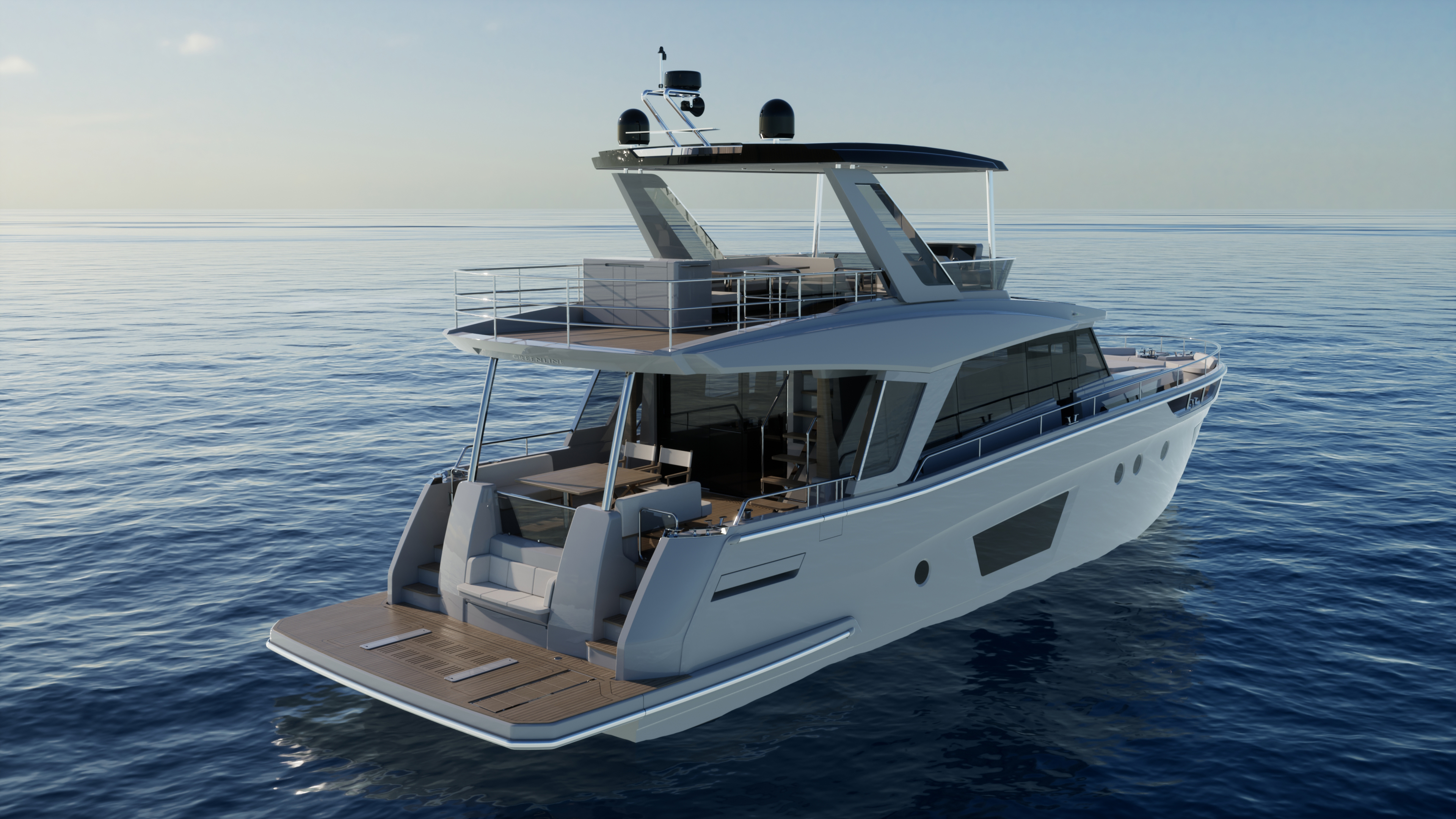 Super-Solar Charge On Board
With a bank of eleven solar panels, you can use all of the boat's appliances, whether cruising or at rest, without having to fire up a generator or connect to shore power. Casali and his team succeeded in delivering more electric panels (3.6kw of power) on the 58 Fly, exceeding any other model. When the boat is at anchor the owner can charge their appliances and yet the solar power eliminates any noise, vibrations, or emissions. 
"I have worked for shipyards where the commerciality of the product is the overarching goal, but Greenline Yachts makes decisions based on helping boat owners to enjoy a better lifestyle" says Casali. "Greenline always wants to do something new and special for their customers."
Find out more about the Greenline's 58 FLY.