Boats That Feel Like A Luxury Home
It's hard to pinpoint exactly what makes us feel at home somewhere. From the soft touch of a silk pillow to the sound of the morning lark, home is very much where the heart is. Our home is where we feel rooted. Homes have a magnetic force that draws us in. Greenline has encapsulated a sense of being at home on a boat by placing care and attention into a nuanced design application. Moreover, the sinuous grace of the yacht's interiors are homogenous with the superstructure of the boat.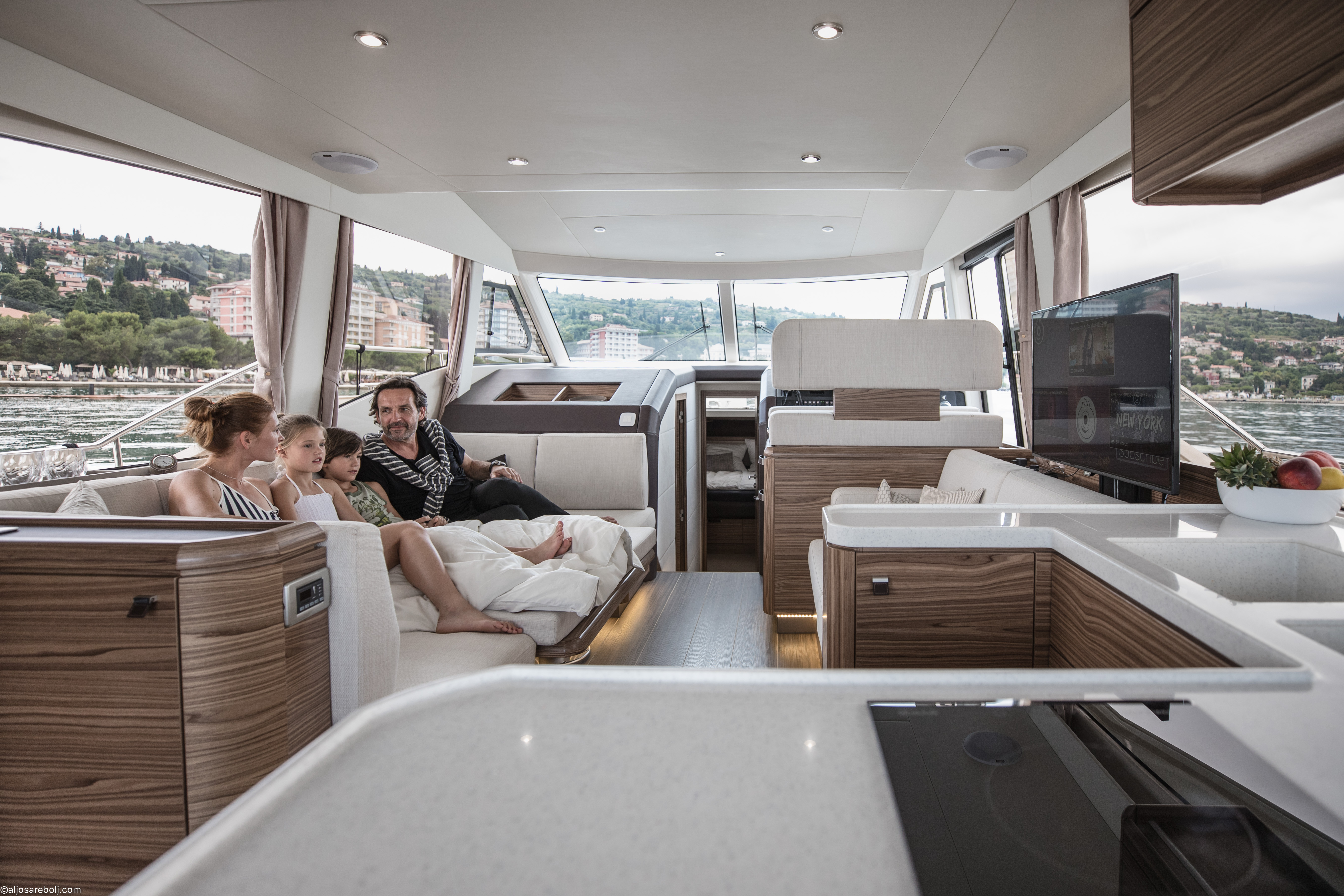 What Makes A Greenline Yacht Feel like Home?
Modular Design With A Penthouse Feel
The easy circulation around the salon, galley, aft and sundeck provides a sense of spaciousness. The layout combines the cockpit and the galley into a large social area where the owners themselves can have coffee and breakfast in the salon. All the yachts are designed for owners to enjoy maximum flexibility in their living space. 
Seamless Living Space
The Greenline 48 Coupe features a convertible salon. The table  lowers to provide the opportunity to transform the salon dining area into extra berths. So that you can start your trip with two, and pick up two friends halfway through your journey and still accommodate them. Our ethos is that passengers should embrace a little ebb and flow in their life: thus we factor this into our design.
Feeling Zen
The Greenline Fleet's hallmark is the abundance of natural light, thanks to the 360˚ panoramic view through the large salon windows, connecting passengers to the natural environment. There is a sense of integrating 'the outside in', with sliding doors and outdoor living spaces. The result is a comfortable environment with expansive natural light and open air.
Small touches can transform a sterile environment to somewhere that feels welcoming and homely, which is why Greenline Yachts come with cozy touches like foliage and fruit bowls.
Curating Comfort 
Comfort can come in many forms. The Greenline 48 Coupe features an extra-large bed. Passengers can stretch out like a cat and enjoy the palatially sized bedrooms. The deluxe full-beam owner's cabin aboard the OceanClass 68 sits at the full width of the boat and the windows span the entire length of the yacht.
Ventilation on board tends to go unnoticed when it's working effectively, but should you ever go inside a yacht where the ventilation is sub-standard it won't take long for passengers to get frustrated, hot and stuffy. By utilising high performance LiPo batteries, the air-conditioning can be run in silence. The sliding roof option also provides ventilation inside of the cabin cruisers.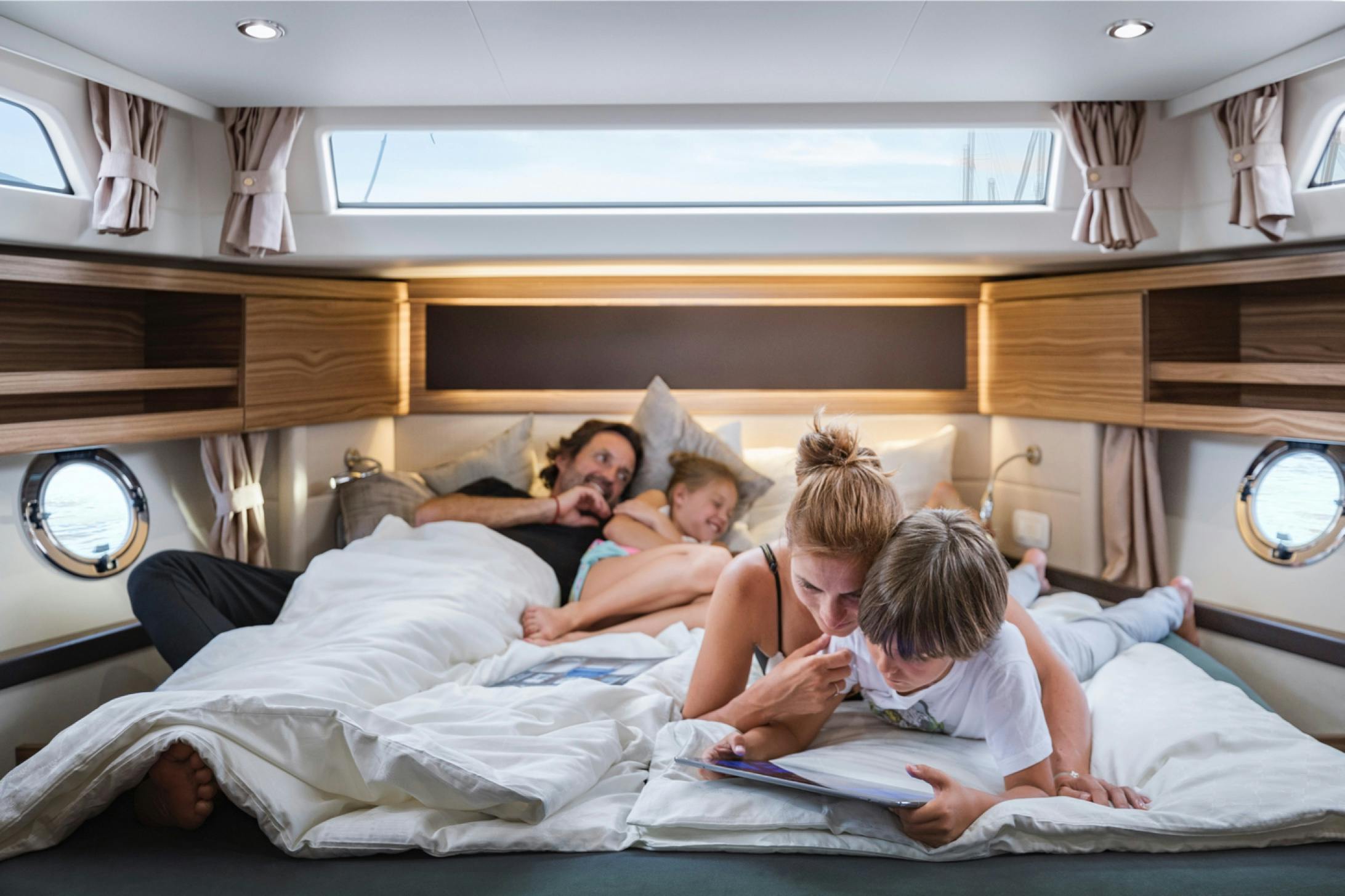 Plentiful Storage
The abundance of storage onboard helps owners reduce the amount of clutter when living aboard and allows space to be utilised more effectively. The Greenline 45 Coupe's (and 45 Fly's) silver lining is the walk-in closets available to make those extended journeys away more comfortable. You can afford to bring more than just a limited capsule wardrobe, and enjoy the flexibility of having an extensive choice. Hanging up your clothes means that you can avoid looking like a dishevelled Nomad and instead channel a pristine sport-luxe look, seven days a week.
Feeling at home somewhere means that storage can cater for more than just your essentials. Greenline's flagship yacht, the 48 Coupe offers another level of prestige, featuring a temperature controlled wine store.
Contemporary Styling 
The Art of Texture 
Our designers cherry-picked earthy elements we experience in everyday life and brought them on board. Cabinetry is perfectly bookmatched in natural wood, and walnut and golden teak are our signature looks, warm earthy tones are reminiscent of your living room. 
Every yacht is beautifully decorated in chic-cream tones. Furniture is upholstered  in  "Mexico", a synthetic leather fabric in a chic-cream to complement the neutral colour palette. The soft furnishings are available in soft shades of cream and taupe, which dovetail beautifully with the rich wood panelling. 
A series of touchable textured salon natural wood tables are available, the combination of textures to create a sense of balance, adding another dimension to the interiors.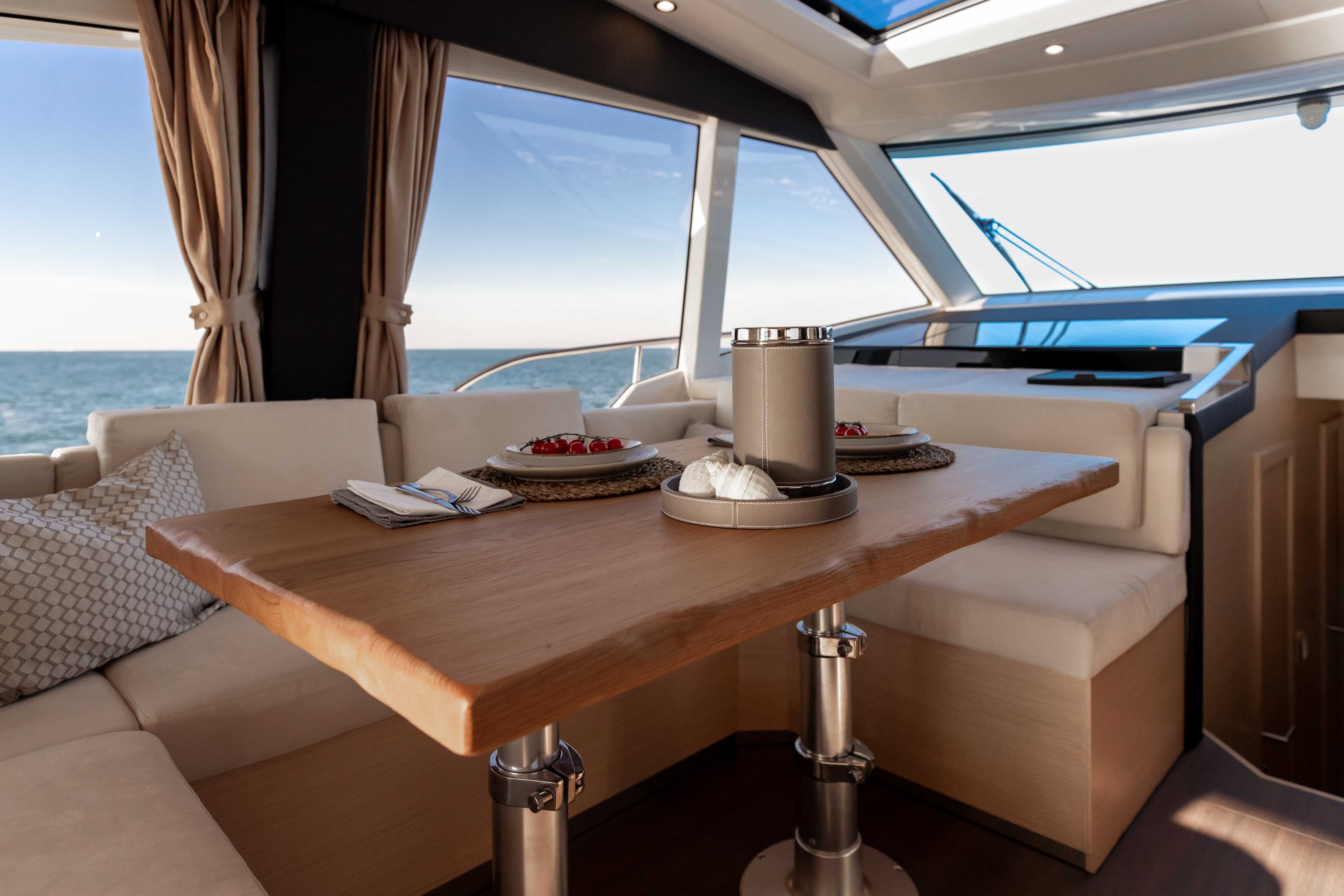 Recycled Fabrics
Greenline embraces innovative eco-friendly fabrics such as PET foam core, and grass paper to accommodate our eco-conscious yacht owners.
Bespoke Design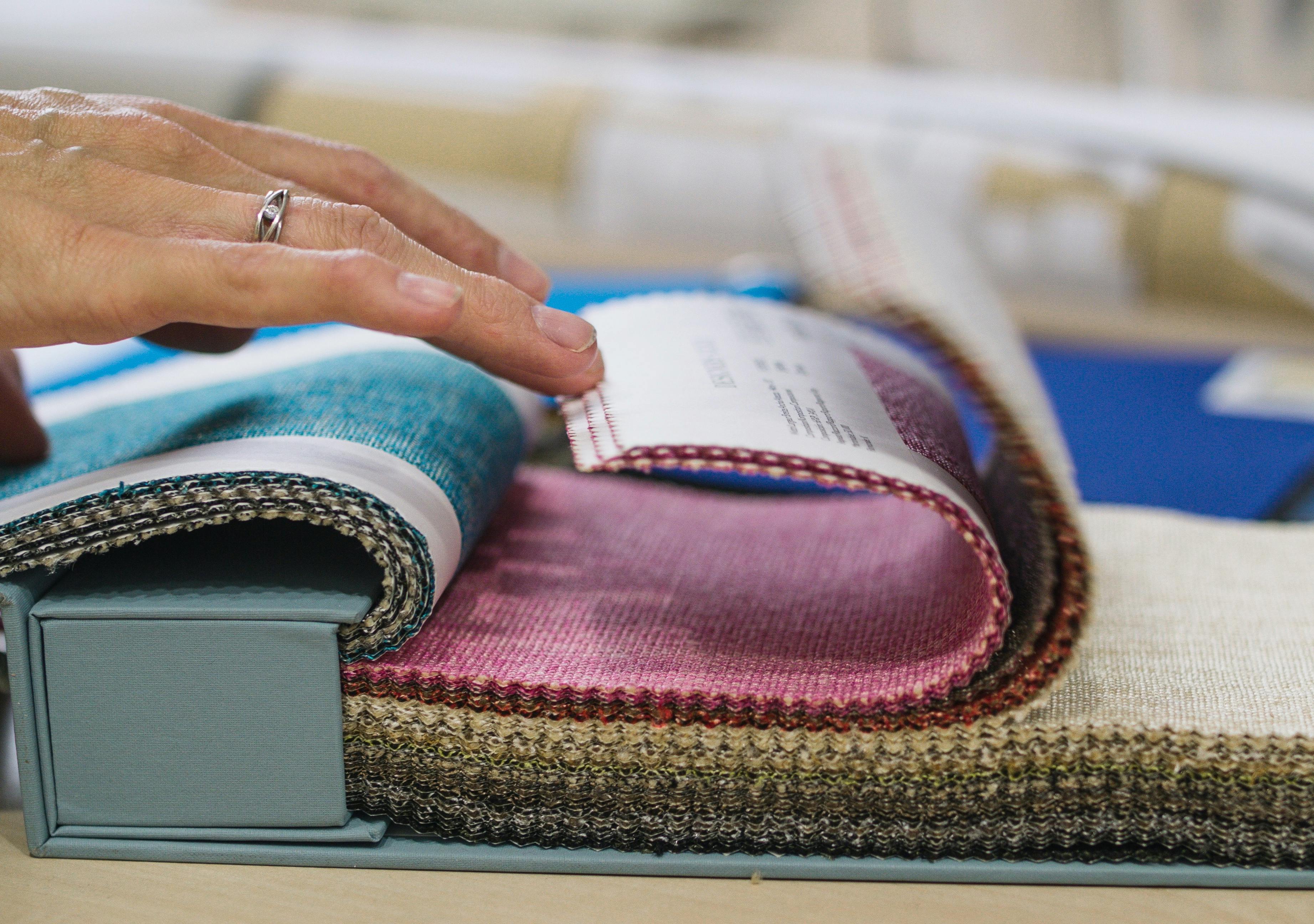 From the hull colour to the furniture wood and upholstery, boat owners can customise their vessels according to their personal preferences. A wide array of materials are on display in our showroom in Begunje. New owners can enjoy flicking through our swatch book to see which fabrics resonate with them. 
State of the Art Technology 
Connectivity is a crucial component to enhance life on board. On Greenlines you can enjoy use of a Flatscreen TV 32" DVBT in the salon which will come mounted and prewired with an electric sliding mechanism. 
Motion Control
Swaying around the cabin cruiser like a drunken sailor is far from ideal and can leave passengers feeling a little green. Greenline Yachts are designed to slice through the water with minimal drag and exceed theoretical hull speed, which is determined by the waterline's length so you can be onboard and stay so incredibly still that you feel like you're still on land. Greenline's naturally have a low centre of gravity, which makes them less susceptible to rolling and generally more stable out at sea, whether stationary or on passage. 
Family Living
You can experience home life without any compromises. Greenline's are designed with optimal safety in mind, so that little children can run around the cabin cruiser carefree, guarded by protected walkways. Family dining is where it all happens on board a yacht, exchanging anecdotes and feasting after a day on the water are memories to cherish. Greenlines distinctive signature is the sociable layout which combines the cockpit and the galley into a big social area. 
A Home Away from Home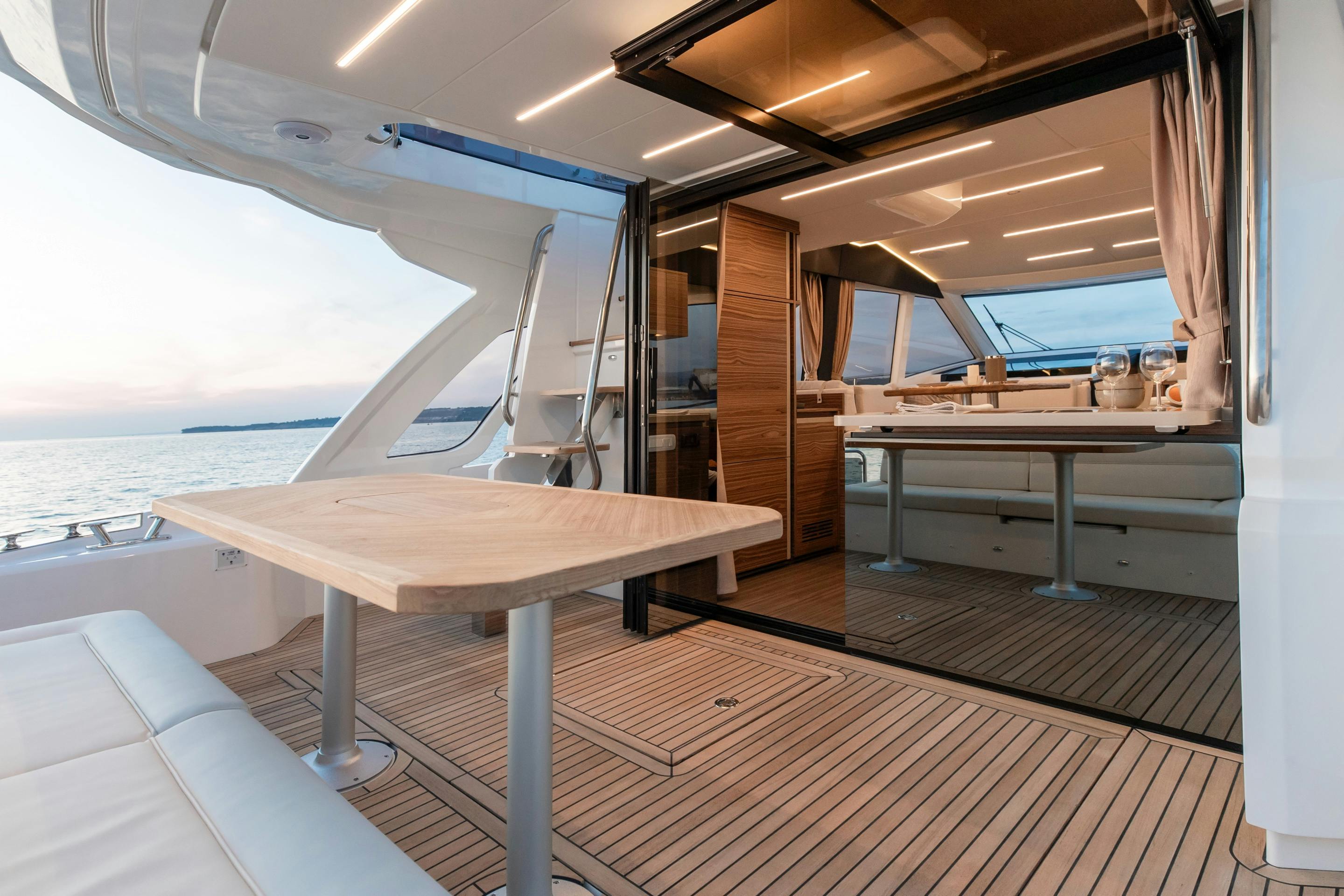 Greenline's interior mission is simple- to blend modular design, contemporary styling and seamless living for an enhanced experience. Connect to the wild-outdoors in total comfort.